Find the perfect student for your project
We've designed our advertising service to be straightforward, flexible and hassle-free.
Advertise your PhD with us today and connect with the brightest candidates across the world.
Single PhD
Advertise an individual project
CDT / Department
Advertise multiple projects or CDT/Department
Promote Multiple Projects

Include Your Custom Banner
Display Ads
Increase engagement with display ads
Benefits of Advertising with us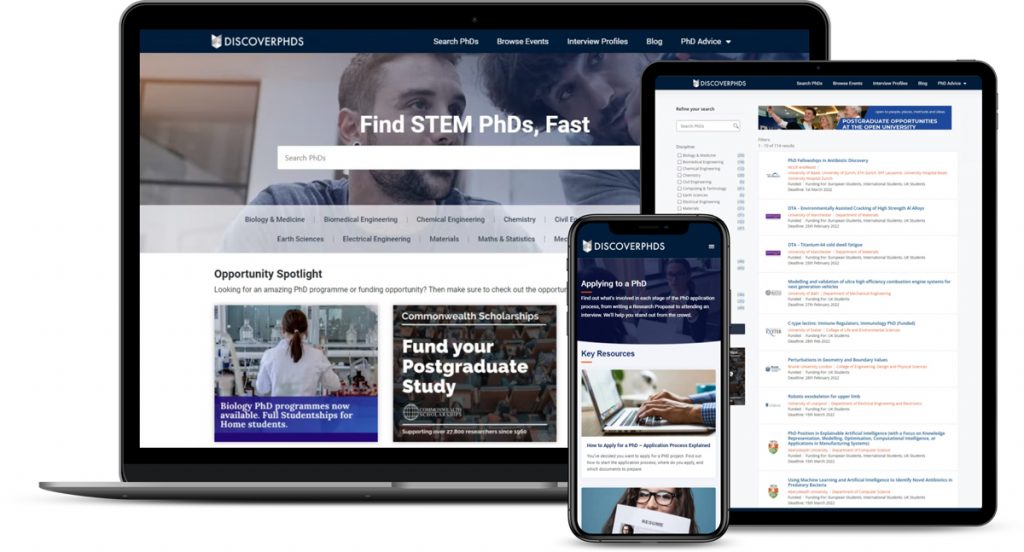 Frequently Asked Questions
How do I submit a Listing?
Complete a Listing Submission Form for the PhD position you want to advertise.
Submit online or email the completed form to us at

[email protected]

.
Once received, we will process the form and aim to make your listing live within 2 working days.
How do I pay for my Listing?
Our standard method of payment is online card payment or bank transfer via Purchase Order.
If you require a different option, please get in touch with us.
How long does it take to create a Listing?
We've designed our listing process to be as simple as possible; it should only take a few minutes to complete.
When will my Listing go live?
Listings typically go live within 2 working days of us receiving your payment or Purchase Order number.
How long will my Listing last?
Single project listings remain active for three months.
CDT / Department listings remain active for as long as you specify during the listing process, with the duration being set in one-month increments.
By default, a single project listing will expire once the project's application deadline has passed; however, if you prefer, we can keep your listing active for its full duration regardless of its deadline.
Can I edit my Listing after it goes live?
Certainly - Simply contact us with the edits you require and we will make them for you. Please keep in mind that while changes are permitted, the advertised project must remain unchanged.
Can I format my Listing in a specific way?
Our online Listing Submission Forms are plain-text based and therefore will not allow any formatting of text.
Should you want to format your text, for example, denote any text in bold or italics, or summarise key information using bullet points or numbered lists etc., please use our Offline Single Project Listing Submission Form or our Offline CDT Listing Submission Form instead. Our Offline Listing Submission Form can be edited in any modern word-editing software package such as Microsoft Word and can be downloaded using the links above.
All completed Offline Listing Submission Forms should be returned to [email protected].
Can I advertise multiple Projects in one listing?
Yes - Our 'CDT / Department' product allows you to promote multiple projects, a department or CDT all within a single listing.
"So happy to have started a PhD I'm genuinely passionate about with two supportive and experienced supervisors"
"DiscoverPhDs helped me to connect with a very capable student to work on with an exciting project within areospace engineering"
"Dealing with DiscoverPhDs has been a joy"