In this guide, we'll share 11 common PhD interview questions and our suggestions on how to answer them.
A PhD interview is an essential step in securing a doctorate position. This is because it enables the prospective supervisor to get to know you better and determine whether you'd be a good fit for the project. Equally, it provides you with the opportunity to learn more about the project and what the university offers. Although being asked to attend an interview by the admissions committee can be daunting, it's actually a positive sign. It means that based on your application and academic qualification, the academic department believes you have the potential to make a good PhD student for the position.
Whilst most questions you'll be asked during your PhD interview will focus on your proposed research project, a handful of generic questions will almost certainly be asked. To give yourself the best chance of succeeding in the interview, we highly recommend that you prepare answers to these generic questions beforehand.
Without further delay, here are 11 common PhD interview questions and tips on how you should answer them.
1. Tell Us About Yourself
It comes at no surprise that this common ice-breaker question is at the top of our list. This question will likely be asked to help you calm your initial nerves and settle into your interview. As this is a warm-up question, aim to give the interviewer a general overview about yourself as opposed to a detailed breakdown. To achieve this, structure your answer into three sections:
Academic History: start with a summary of your academic background – where and what have you studied? What grades did you achieve?
Research Topic: go onto explain your research interest in your chosen topic – what do you like about it? Do you intend to pursue a career related to it upon obtaining your degree?
Why a PhD: Finish with why you want to undertake a PhD – do you want to make a contribution to science? Do you want to get a job in academia?
2. Why Do You Want to Do A PhD?
Although you may have touched on this in your answer to the above, your interviews will want to know more of the detail if they ask this question as a direct followup.
Though it may appear obvious, the interviewer is specifically interested in discovering your personal motivations for undertaking a PhD. Too often, students answer this question by listing the benefits of a PhD. Not only will the interviewer already know the benefits of a PhD, but a generic answer also won't help you stand out among the other applicants.
To answer this question and leave a lasting impact, try to include an academic or personal experience that has strengthened your passion for research. As well as this, outline what your career aspirations are and explain how the proposed PhD will help you achieve them. The key to selling yourself here is to let the interviewer know how passionate you are about the project without having to say it.
3. Why Did You Choose This Project?
This is your chance to show that you have researched the University, supervisor and project.
First, talk about the project. Is there a particular aspect that you're interested in? If so, mention it. This will show that you're engaged in the topic and already have a basic understanding of the field. Besides this, a great way to show that you've really looked into the research topic would be to discuss a certain part of the methodology the project could adopt.
Next, talk about the University – there may be several universities offering similar projects, but what makes this one stand out? Is it their resources? Is it the prospective supervisor's research group? Is it their previous involvement in previous influential studies? Again, show that you've adequately researched the University and clearly understand what makes it unique.
Finally, you can mention if your decision to apply to their university has been influenced by the expertise of the proposed supervisor. Given that the supervisor will be highly knowledgeable in the research topic you're applying to, it's possible they may have contributed to some significant findings in it. If so, it's acceptable to acknowledge this by mentioning how you would like the opportunity to work under their guidance. However, be careful not to overdo. Although you may be sincere in your answer, it can go against you if your supervisor feels like you're trying to flatter him. To avoid giving this impression, focus on how his or her expertise will help you develop into a competent researcher.
4. Why Should We Choose You?
"Reassure them you have the skills and experience required to undertake a doctorate degree…"
A very blunt question, but your PhD supervisor will want to make sure you're the best candidate for the position. This is especially true given they'll be responsible for supporting you over the next few years. Therefore, the primary aim of your answer will be to reassure them you have the skills and experience required to undertake a doctoral study. To achieve this, identify the critical knowledge and skills required for the project and discuss how you meet each of these. Follow up each justification with a short, relevant example to help give your answers more impact.
When asked this question, some students tend to just summarise their academic CV and cover letter. This isn't an effective way to answer the question as you're telling the supervisor information they already know about you. It's fine to reiterate a few key points, however, try to delve deeper into what you can offer going forward as opposed to what you've achieved in the past. As part of your answer, identify the soft skills which will be imperative to the doctorate and state how you have each of these. These can include skills such as effective communication, great time management, problem-solving, adaptability and high work ethic.
5. How Did You Come up With This Project?
If you've developed your own research proposal, then expect to have to defend it as part of your interview. You should have a thorough understanding of what the current gaps in knowledge are surrounding your research topic and how these could limit the findings of your study. Besides this, you'll want to show that you're clear on what the key aims and objectives of your project are and appreciate how they could contribute to your field of research. This last point is essential in convincing the interviewers this project is a worthy pursuit. What makes your project groundbreaking and worth dedicating several years to?
The interviewer wants to know if you have thought out all aspects of your project and so will likely scrutinise the finer details of your proposal. Therefore, be ready to outline the literature you've read and discuss how you evaluated different methodologies before suggesting your current one.
If you want an edge over other students, you can also produce a high-level plan, similar to the one below (but with more detail), which outlines the different phases of your research project. This can include stages such as the literature review, undertaking experiments, producing your thesis and preparing for your viva voce. Although they won't expect your plan to be fully accurate, especially given how dynamic research projects can be, it will show your positive attitude towards being imitative and taking responsibility for your project.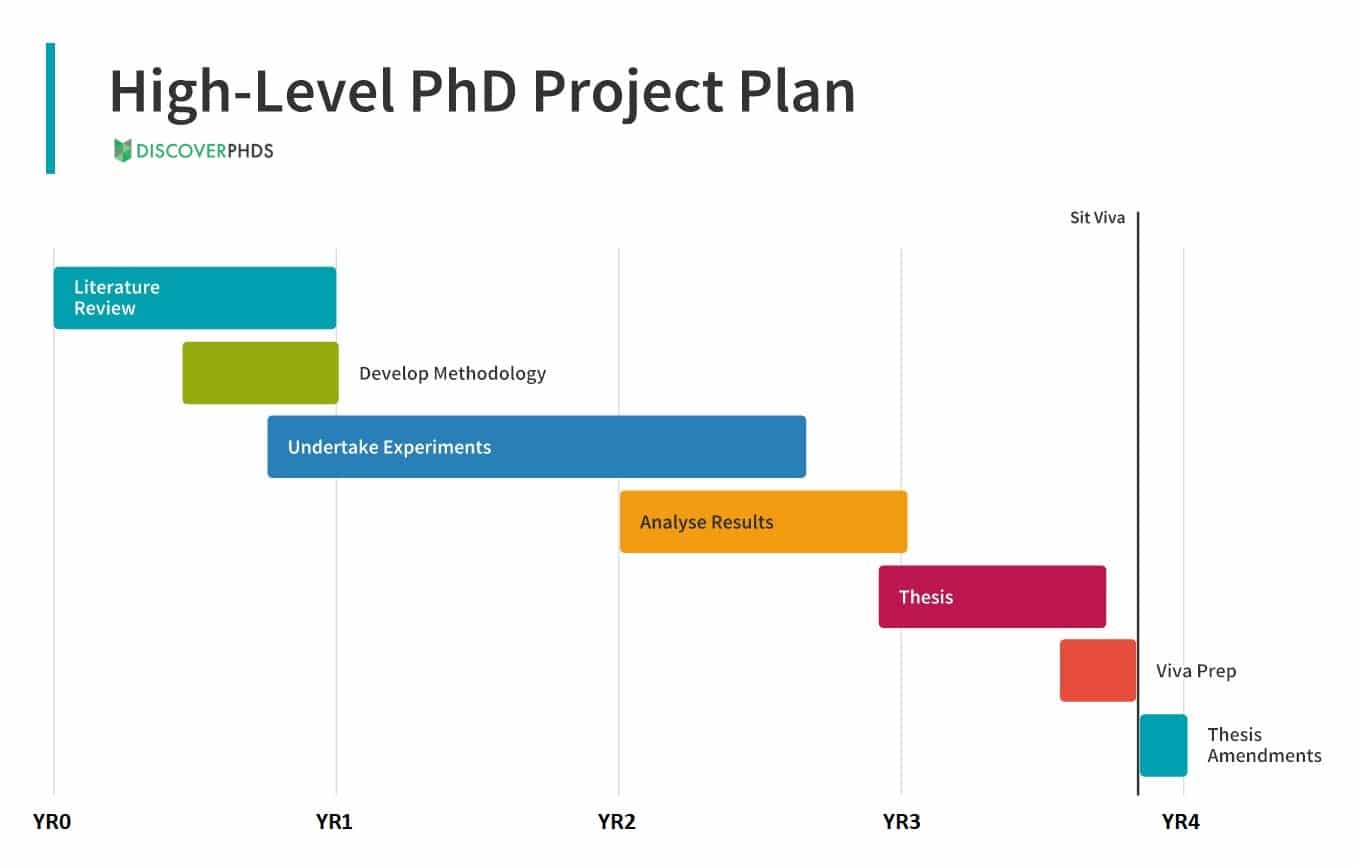 Tip
This question like be the most technical aspect of your interview. A key requirement of all competent researchers is communicating complex ideas clearly. Therefore, the interviewer will pay special attention to how you respond to this question. To make a good impression, practice your answer several times, with each practice attempt aiming to streamline the version before it.
6. What Challenges Are You Expecting to Encounter in This Project?
A common PhD interview question students struggle with is "What difficulties do you think you will face?" This purpose of this question is to check how much you've thought about the project. Students who provide a poor answer generally do so as they think admitting to any potential difficulties may make them seem incompetent. This couldn't be any further from the truth.
Identifying potential difficulties shows the interviewers you've given serious thought to the project. This reassures the supervisor that should you run into difficulties during the research, you're not only capable of identifying them but also mature enough to do so. Not highlighting potential difficulties, whether it's due to a lack of confidence or understanding the project, suggests your project will be vulnerable to problems which could go amiss.
When answering this question, try to follow up on each potential difficulty with how you intend to address it. This can include measures such as making use of internal development opportunities, enrolling onto external training courses or signing up to specific research master classes.
7. What Are Your Strengths and Weaknesses?
This is a standard question for most interviews, and a PhD interview is no different.
Pick strengths that compliment your PhD programme. For example, if applying to a Physics or Engineering PhD, mentioning you have good attention to detail would be highly beneficial given the amount of data analysis involved. Try to support each of your claims with a relevant example. Using the above case as an example, you could discuss how as part of your Bachelor's or Master's dissertation project, your high attention to detail allowed you to streamline some of your experiments or identify potential problems with your data.
Likewise, try to discuss a weakness that won't be detrimental to your research project. An example of something you would want to avoid would be "I have a tendency to put the hard tasks off until the end until I know I should really start working on them to not miss any deadlines". Although this may seem like a harmless response, it will seriously concern the interview panel. This is because a model student will need to be consistent in their efforts to meet the challenging workload, even in times of difficulty. As before, follow up your weakness with a plan on how you intend to address it. For example, if you state your weakness as public speaking, a suitable follow up would be to discuss how you would like to work on it by presenting your research to undergraduate students and attending seminars.
Finding a PhD has never been this easy – search for a PhD by keyword, location or academic area of interest.
8. Can You Describe a Time You Encountered a Problem or Challenge and How You Approached It?
A key trait of all successful researchers is the ability to overcome problems independently. Given that even a minor problem can derail a research project, it's important for your project supervisor to know whether you can adequately address them.
Despite what your example may me, try to cover the below three aspects as part of your answer:
Identification – How did you identify the problem? Was a check you had in place triggered or did you stumble upon it naturally?
Deconstruction – How did you break the problem down? Did you identify any assumptions or limitations which could have been associated with it? If so, how?
Overcoming – How did you identify the solution? If you had several solutions, how did you determine the most sensible one? What did you learn from it?
Your example doesn't need to relate directly to the research programme you're applying to, however, it should be kept academic if possible. For example, you could discuss a challenge you encountered during your undergraduate dissertation project, such as limited literature on your research topic or inaccurate experiment results.
The key point to remember here is that a supervisor is there to supervise, not to fix all your problems. Not only will they not have the time do to this, but it will directly go against the ethical requirement of ensuring your work is yours and yours alone.
9. What Are Your Career Aspirations?
Your interviewers will want to see that you've considered what you will do after completing your PhD. This is to help them determine what your motivations are and to confirm that you want to enrol onto a PhD for the right reasons. It's clear that anyone who has thought through their decision will have a long-term plan in mind, even if it's a handful of well-considered options.
Don't feel like your answer needs to relate to academia. One of the many benefits of a PhD degree is that it can lead to a variety of career paths. By being open with your true intentions, they can better determine what support and training you'll require from them.
Despite your long-term goals, research into this and know the route you'd like to take post-PhD. A good understanding of your career plans and how to get there will go a long way in conveying your commitment to the project.
10. How Will You Fund This Project?
The interviewing panel will ask about this if your project is self-funded or conditionally funded (e.g. competitive funding schemes where funding is not guaranteed).
You don't need to provide a complete breakdown of your savings, nor would they expect you to. The primary concern the interviewers want to address is that you're fully aware of the costs associated with undertaking a PhD. If you intend to apply for external funding or take on a part-time job, mention this. In doing so, make sure you stress that you will base your part-time work around your PhD and not the other way around. The interviewers want to reassure themselves that you will make your research your top priority throughout the course of your degree.
Tip
Make sure you know the exact tuition fee amount is. If you plan to move closer to the university to undertake your doctorate degree, also ensure you know what the average living expenses are for the area. If they ask you about these and you don't know the answers, they'll doubt whether you've considered the financial aspect of the degree.
11. Do You Have Any Questions for Us?
This interview is not only for the supervisors to evaluate you but also for you to evaluate them, the PhD project and University.
Although you will have already researched the position at length, ensure you ask questions when offered to do so. Asking questions will show that you're engaged and are an individual who likes to make informed decisions. Not asking questions, or not asking well thought-out ones, will send the wrong message.
If you're wondering what makes a great question, a quick internet search for "What questions should I ask at a PhD Interview?" show's you're not alone. Some examples of great questions to ask in a PhD interview are:
Are there any major developments or partnerships planned for the department? – Although this won't always be the case, the department may be planning to upgrade its research facilities or partner with another leading institution. Asking about this shows you're genuinely enthusiastic about undertaking influential research.
What are the supervision arrangements? – This is a great way to find out if your expectations match that of your potential supervisors. This can include aspects such as how often the two of you will meet and what level of support they intend to provide.
Will there be any opportunities for teaching within the department? – If you intend to pursue an academic career after completing your research, this will be a brilliant way to show them you're committed to your long-term plans. Even if you plan on following a different career path, asking will let you know whether there is any opportunity to earn whilst you study.
What opportunities will I have for presenting my research? – This shows you intend to be an active member within your research field. This won't be great only for your development but will help the university increase its research network and reputation in the wider community.
Tip
Try to have around four to five PhD interview questions prepared in case they answer any during your main discussion. There's nothing worse than trying to think on your feet when you weren't expecting to, especially when your future is being discussed!
Other PhD Interview Tips and Advice to Help You Prepare
Format – The format of the PhD interview varies depending on the University. If you're unsure of what format your upcoming interview will follow, get in touch with the department you will interview with. They should be able to give you an idea about what to expect and how long it will typically last. This knowledge will prove invaluable when preparing for a PhD interview.
Video interview – Some interviews will be conducted as either a phone interview or a skype interview. This is especially true if you're an international student still within your home country. If so, conduct your interview in a place with a reliable internet connection and a clean backdrop.
Attendance – Usually, your interview will comprise the primary and secondary supervisor. However, sometimes your interview panel can comprise non-technical staff or the Head of Department.
Presentation – You may be asked to prepare a PhD interview presentation if you're proposing your own research topic. If you're requested to do this, keep it brief, use at least 80% of the time they permit and base it around your research proposal.
Paperwork – Bring two to three copies of your application form, and if applicable, your research proposal. Although in most cases your interviewers would have bought their own copy, it's better to be on the safe side.
Etiquette – If you're unsure of what to wear to a PhD interview, a good general rule of thumb is to wear what you would to a formal job interview. In other words, keep it formal. Additionally, learn how to pronounce the names of the interviewers and any other staff members you may mention beforehand.
Practice – There's a lot of truth in the old saying 'practice makes perfect'. You will want to practise as many PhD interview questions as you can. Don't just limit yourself to the ones discussed on here. Find as many PhD questions as you can and prepare draft answers for all of them. In fact, you don't even need to limit yourself to questions specifically for PhD students. There are many out there that, although written for generic academic interviews or the job market, will be applicable to you. If you find yourself short on resources, try searching for 'tell us a time when you…' in google as these will provide great scenario-based questions you can practise with.