Take Home Message
There no age limit for doing a PhD. The youngest person known to have earned a doctorate was 15 years old at graduation, whilst the oldest known person to have gained a PhD in the UK was 95 years old.
Introduction
I have seen and personally worked with PhD candidates of all ages, some older than me, some younger. In all my time within academia, I haven't come across any university that places a limit on the age of an individual that wants to apply for and pursue a full time doctoral degree; indeed the practice of doing so would be rightly considered a form of discrimination at most academic institutions and even against the law in some countries.
However, a quick search on Google is enough to see that the question about age limits for doing a PhD is something that is asked quite often. This leads me to believe that there are many very capable potential doctoral candidates in the world that haven't pursued their dreams of academic research almost entirely because they believe that they're too old to do so.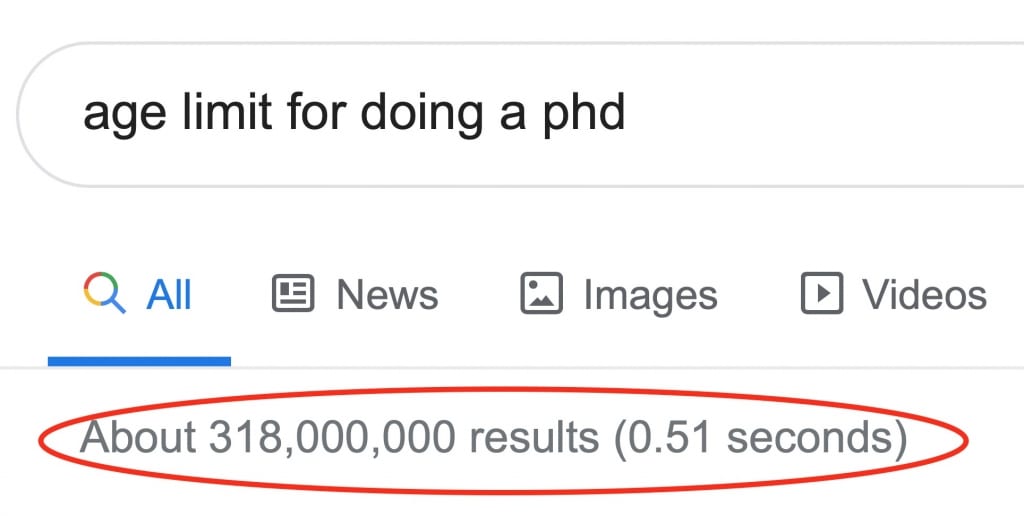 There is No Age Limit for Doing a PhD
Simply put there is no age limit for someone considering doing a PhD. Indeed, on the opposite end of the scale, even the definition of a minimum' age at which someone can start a PhD is not really well defined.
One of the youngest PhD graduates in recent times is thought to be Kim Ung-Yong who is a South Korean professor who purportedly earned a PhD in civil engineering at the age of 15 [1].
For the vast majority however, the practical considerations of progressing through the different stages of education (i.e. high school, undergraduate degree, a Master's degree, etc.) mean that most won't start their PhD projects until they're at least in their early to mid 20's; in the UK, for example, the average age for a PhD graduate is between 26 and 27 years old [2].
Meanwhile, the oldest person to be awarded a PhD degree in the United Kingdom is thought to be 95 year old Charles Betty, who gained his doctorate from the University of Northampton in 2018 after completing his 48,000 word thesis on why elderly expats living in Spain decide to return to the UK' [3].
What does the data say?
According to data published by the National Science Foundation (NSF), a total of 54,904 people earned PhDs at universities in the United States of America in 2016; 46% of all new doctorates were women and 31% were international candidates [4].
Looking at the age distributions available for 51,621 of these new PhD graduates in 2016, 44% (n=22,863) were aged 30 or below, 43% (n=22,038) were aged between 31 and 40 and 13% (n=6,720) were over the age of 40 when they were awarded their doctoral degree.
In this same year, over 50% of PhD students in subjects related to physical sciences, earth sciences, life sciences, mathematics, computer sciences and engineering were below the age of 31, whilst less than 10% of these STEM graduates were older than 41.
Conversely, 61% of PhDs in humanities and arts and 52% in other non-engineering and science disciplines gained their doctorates between 31 and 40 years of age.
Interestingly, the analysis by the NSF found that 94% of doctoral candidates aged below 31 supported their research financially through research or teaching assistantships, grants or fellowships. Only 36% of PhDs aged over 41 at graduation reported receiving similar types of financial support; approximately 50% of this age group were found to have self-funded their studies.
The reasons for fewer doctoral candidates aged over 41 receiving external funding to support their time as research students is not clear. On the face of it, the data may appear to suggest a bias towards funding younger students which unfortunately may be the case in some instances. In Germany, for example, the German Federal Training Assistance Act (BAfG) provides funding support for higher education but places a limit of 30 years for undergraduate degrees and 35 years for postgraduate students at graduate school.
However, another explanation, at least in some cases, may be that non-STEM related subjects are less likely to be associated with specific project funding and NSF analysis suggests PhDs in these subjects are more often undertaken by older doctoral candidates.
What are the Advantages and Disadvantages?
No one should be discouraged from pursuing a PhD program or entering into higher education based on how old they are and indeed there are several (albeit subjective) benefits and disadvantages of doing a PhD in your younger' or older' years.
A perceived advantage may be that gaining a PhD in your 20's can potentially give you more time to develop your career. Younger doctoral students could earn their PhD and enter into academic jobs before starting a family (although many people successfully carry out doctoral research whilst also looking after young children). You could even afford yourself the time and flexibility to implement a career change further down the line if you so wanted.
Conversely, entering a graduate school and becoming a PhD student in later years means that you'll be doing so having gained a lot more life experience and for some STEM research projects in particular, having work experience in industry can be invaluable. As an older PhD candidate you're likely to be better equipped to work independently and the relationships / connections you'll have built over time may be a useful factor in helping you progress faster. I've met several older students at university who had the opportunity to undertake PhD research years ago but have no regrets in having waited and started the adventure in later years.
Finding a PhD has never been this easy – search for a PhD by keyword, location or academic area of interest.
Conclusion
It's inevitable that the question of age limits for pursing a PhD is going to invite some controversial opinions from some people; this unfortunately may always be the case when talking about differing social and demographic factors.
There's no doubt however that PhD programs can help career advancement or a career change regardless of age however there's also nothing to stop you from becoming a graduate student just for the academic pursuit!
The answer here is very simple: there is no age limit for doing a PhD.
References
[1] http://scienceandnaturea.blogspot.com
[3] https://www.telegraph.co.uk/