What are Abbreviations and Acronyms?
An abbreviation is a shortened version of a term or phrase, e.g. kg for kilogram or Dr. for doctor.
An acronym is a type of abbreviation constructed from the first letters of a term, e.g. FRP for Fibre Reinforced Polymer or STEM for Science, Technology, Engineering and Maths.
List of Abbreviations in a Thesis or Dissertation
If your thesis or dissertation contains several symbols or abbreviations, it would be beneficial to include a list of abbreviations to assist your reader. This is a list sorted in alphabetical order that gives their definitions.
This will not only help the reader better understand your research, but it will also improve the flow of your paper, as it prevents continually having to define abbreviations in your main text.
Where Does a List of Abbreviations Go?
When including a list of abbreviations, insert them near the start of the report after your table of contents. To make it clear that your document contains an abbreviated list, also add a separate heading to your table of contents.
Note: The page number for your list of abbreviations should continue from the page number that proceeds it; there is no need to reset it for this section.
Rules for Using Abbreviations and Acronyms
The first time you use an abbreviation or acronym, it is good practice to write out the full terminology or phrase followed by the abbreviation or acronym encased in parenthesis.
After defining an abbreviation or acronym for the first time in your main text, you no longer need to use the full term; for example:
Example of Acronyms in a Thesis or Dissertation
"The literature suggests that reinforced concrete (RC) has a wider range of applications than Fibre Reinforced Polymers (FRP). As a result, RC is used more frequently in the construction industry than FRP."
This allows the reader to understand your report without having to rely on the list of abbreviations; it is only there to help the reader if they forget what an abbreviation stands for and needs to look it up.
Note: In academic writing, abbreviations that are not listed should always be defined in your thesis text at their first appearance.
Abbreviated Exceptions
Very common abbreviations should not be included in your list because they needlessly overload your list with terms that your readers already know, which discourages them from using it.
Some examples of common abbreviations and acronyms that should not be included in your standard abbreviation list are USA, PhD, Dr. and Ltd. etc.
Example of List of Abbreviations for a Thesis or Dissertation
An example abbreviation list is as follows: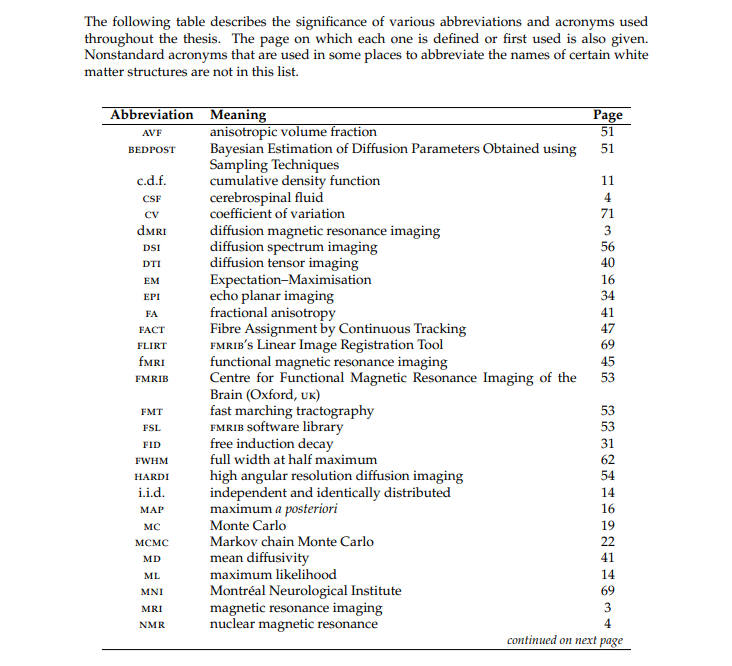 The above example has been extracted from here.
List of Symbols
You can add symbols and their definitions to your list of abbreviations, however, some people like to keep them separate, especially if they have many of them. While this format will come down to personal preference, most STEM students create a separate list of symbols and most non-STEM students incorporate them into their list of abbreviations.
Note: If you are writing your report to APA style, you will need to consider additional requirements when writing your list of abbreviations. You can find further information here.
Further Reading
Whether you're writing a Ph.D. thesis or a dissertation paper, the following resources will also be of use:
Finding a PhD has never been this easy – search for a PhD by keyword, location or academic area of interest.