Summary
In UK universities, the academic titles and the order of their academic rank are: PhD student, postdoc research fellow, assistant lecturer, lecturer, senior lecturer, reader, professor, named professor and head of department.
Introduction
Understanding the academic titles and ranking hierarchy of UK universities is fundamental if you want a smooth start to your PhD. It's a pity it's also a topic which is commonly overlooked and not explained well nearly anywhere. With this in mind, we've outlined what the typical academic titles are, what they mean and where they sit in the overall hierarchy.
It's important to note that not all UK universities follow the same terminology for academic titles. In fact, we're increasingly seeing several universities adapt some of these titles to their own version. This is especially the case among Russell Group universities such as the London School of Economics (LSE) and University College London (UCL). Despite this, they still resemble their more traditional titles, so it's still possible to distinguish the position and academic rank of a member of staff.
PhD Student
A PhD student is a postgraduate who is actively undertaking a research degree with a recognised institution.
The length of their studies depends on both their discipline and whether they are enrolled in a full or part-time programme. Usually, a PhD student will spend three to four years completing their degree.
During this time, they will undertake original research, produce a thesis and defend their work during an interview known as a 'viva'. Besides this, they may also attend seminars and conferences, deliver presentations to their industry and collaborate with external institutions.
Upon successfully completing their doctorate, the individual will carry the title of Doctor (denoted by the initials 'Dr'). This is true for all individuals regardless of which discipline their research relates to.
It's worth noting that although a PhD is the most common doctoral degree, doctorate students could be anyone undertaking a DPhil, DBA, DProf, EdD, EngD, MD etc.
Finding a PhD has never been this easy – search for a PhD by keyword, location or academic area of interest.
PostDoc Research Fellow/Research Assistant
A PostDoc Research Fellow or Research Assistant is a postgraduate doctorate holder working in research.
Whilst both positions undertake similar work, a PostDoc Research Fellow typically has greater independence and responsibilities. This means they can influence the overall direction of the research, and whilst a Research Assistant can do so as well it will be to a lesser extent.
Assistant Lecturer
An Assistant Lecturer is the most junior teaching position regarding the overall ranking of academic titles. They are usually only temporary positions, such as an individual covering for another lecturer during a period of absence.
Some Assistant Lecturers will be PhD students on Graduate Teaching Assistantships (GTAs). GTAs are programmes which, alongside their studies, require a doctoral student to assist in the learning of undergraduate students. This will typically involve leading tutorials, marking coursework and hosting laboratory sessions. Besides this, they may also support lectures if their knowledge and relevant experience allow for it.
Lecturer
A Lecturer is also considered a junior academic staff member. Their primary responsibilities are on meeting the educational needs of students. As such, their most common duty is to teach but may also extend to undertaking research and minor administrative tasks.
Most lecturers will be PhD holders and so would be referred to as 'Dr'. However, this isn't always the case with some individuals who haven't undertaken a doctorate but still possess extensive experience and knowledge to teach. Although these individuals are few, they are more common in non-STEM fields.
Senior Lecturer
The responsibilities of a Senior Lecturer extend further than that of a normal Lecturer, with the addition of leading and supervising research and greater administrative tasks.
Reader
A Reader is an academic individual with both senior-level experience and an international reputation for their academic or research contributions. In terms of hierarchy, they are more distinguished than Senior Lecturers, largely because of their international presence, but below Professors due to not having yet contributed as a substantial amount.
Interestingly, universities established after 1992 use the title 'Principle Lecturer' in place of Reader. Other than the terminology, the titles refer to the same position.
Note: Some universities adopt the academic title 'Associate Professor' instead of Senior Lecturer.
Professor
A professor is the highest academic title and denotes an individual at the top of their respective field. This individual would have made significant scholarly contributions to their field.
In EU countries such as Germany and France, a faculty member has to sit and pass a review before they can become a Professor. This review is undertaken by a panel of highly experienced academic professionals and requires the individual to produce a document outlining their contributions to their field before they can even be considered.
In the UK, a different approach is taken. Rather than being appointed by an independent review, it instead comes down to the university's discretion whether they should be upgraded to a full professorship. However, nearly all UK universities mirror a very similar review process, with some universities also utilising independent panel members to ensure fair professoriate decisions are made.
According to the Higher Education Statistics Agency (HESA), approximately one in ten academic teaching staff members is a Professor.
Named Professor
A Named Professor is a Professor who has the honour of sitting in a 'chair'. A 'chair' is a position named after an individual who made significant achievements in their field, and in some cases, dates back to individuals in the 16th century. Being a Named Professor is a prestigious professorship reserved for academics who have made achievements beyond that of a typical Professor role.
Note: Some universities, such as the University of Sheffield, adopt the academic title 'Honorary Professor' instead of Named Professor.
Head of Department
The Head of Department provides academic leadership to the department and is responsible for ensuring it upholds its high standards. The key activities of a Head of Department will differ depending on the breadth of its discipline and number of staff. However, their responsibilities will include ensuring the development of students, maintaining department-wide communication and overseeing research opportunities, financial management and overall quality assurance etc.
Faculty Dean
A Dean is in charge of the academic administration of a collection of related university departments known as a faculty.
There are many responsibilities to being a Dean, including:
Representing all permanent staff members of the faculty.
Undertaking strategic planning for the faculty's direction and growth.
Participating in internal review panels for staff title promotions.
Lead research initiatives and facilitating faculty collaborations.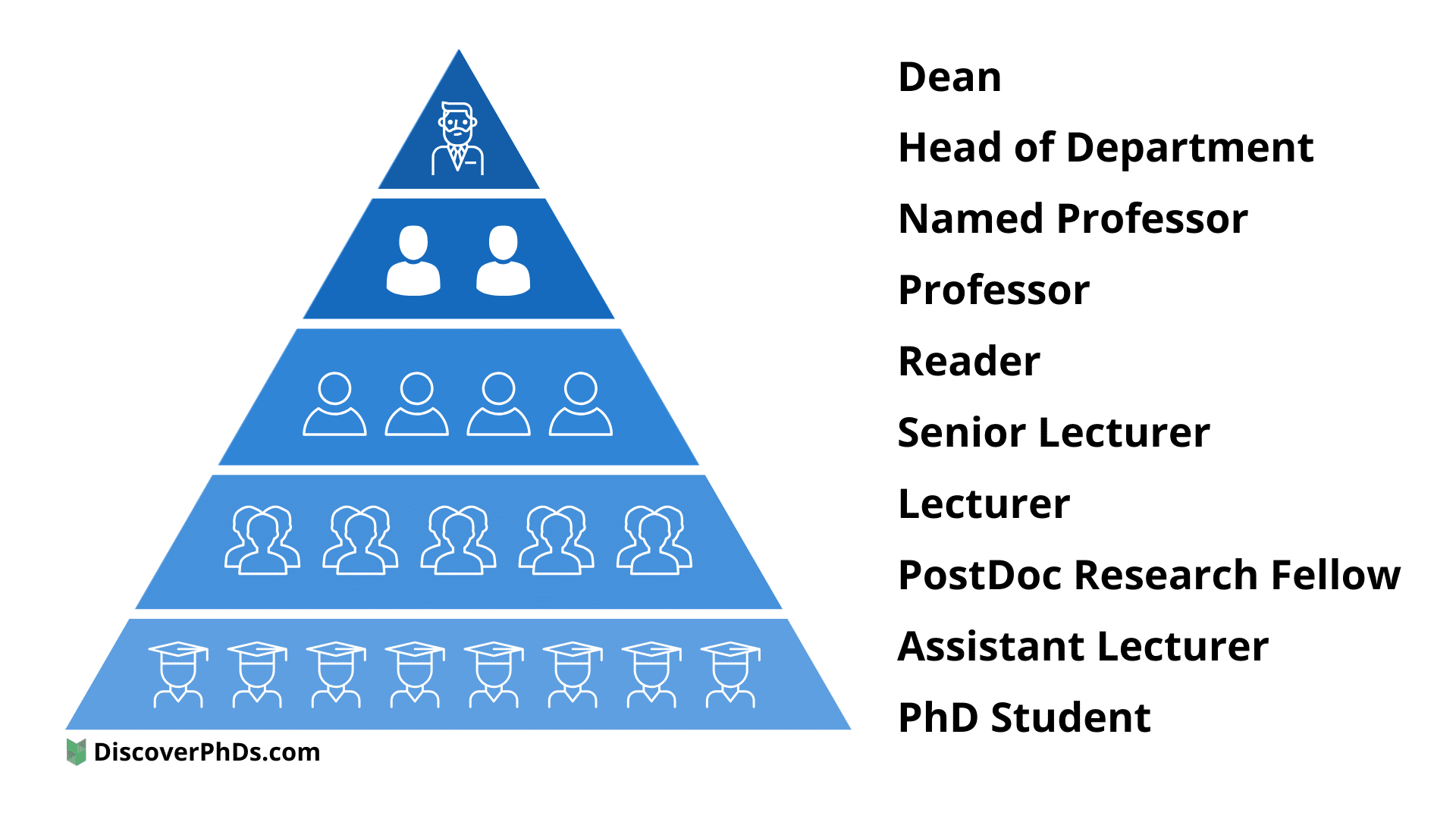 UK vs US Academic Titles
Table comparing academic titles in UK and US universities.

| | |
| --- | --- |
| United Kingdom | United States |
| Undergraduate | Undergraduate |
| Postgraduate | Graduate |
| Postdoc | Postdoc |
| Lecturer | Assistant Professor |
| Senior Lecturer / Reader | Associate Professor |
| Professor | Full Professor |
Other (not as common) Professor Positions
Although not as common, a few universities also make use of the following titles:
Visiting Professor – A Visiting Professor is a professor who teaches on a short-term basis at one university, but officially belongs to another university.
Professor Emeritus – A Professor Emeritus is an academic title in the UK given to retired professors who have made distinguished contributions to their field. Professors who are given this title usually continue to work with their university voluntarily.
Research Professor – A Research Professor is a full professor who specialises in research. Although they may teach from time to time, they will usually have very little 'formal' teaching responsibilities.
Adjunct Professor – An Adjunct Professor is a professor who primarily focuses on teaching and has a non-permanent contract. They are typically non-tenured faculty positions and form most of the academic positions in US Higher Education Institutions.